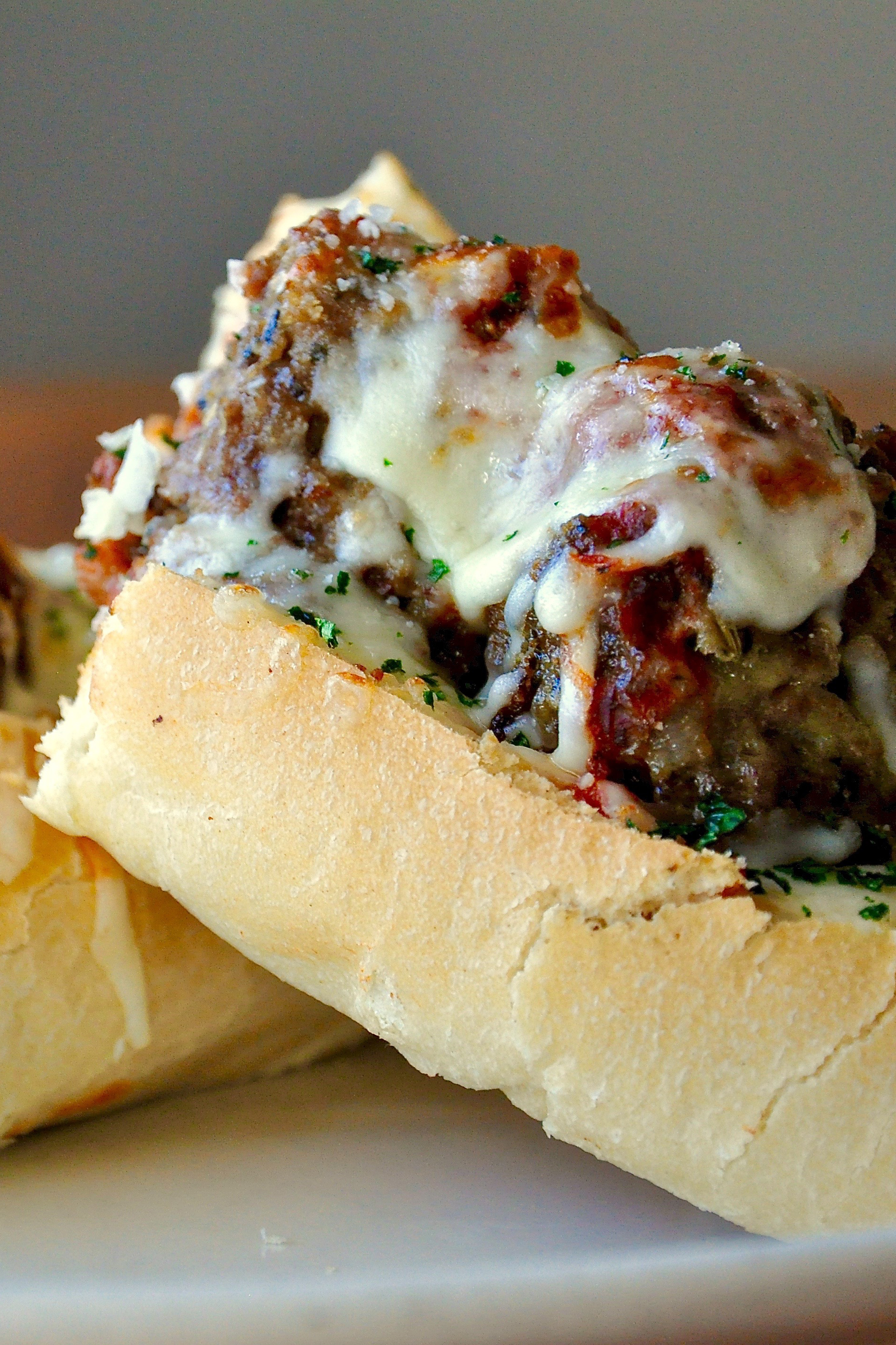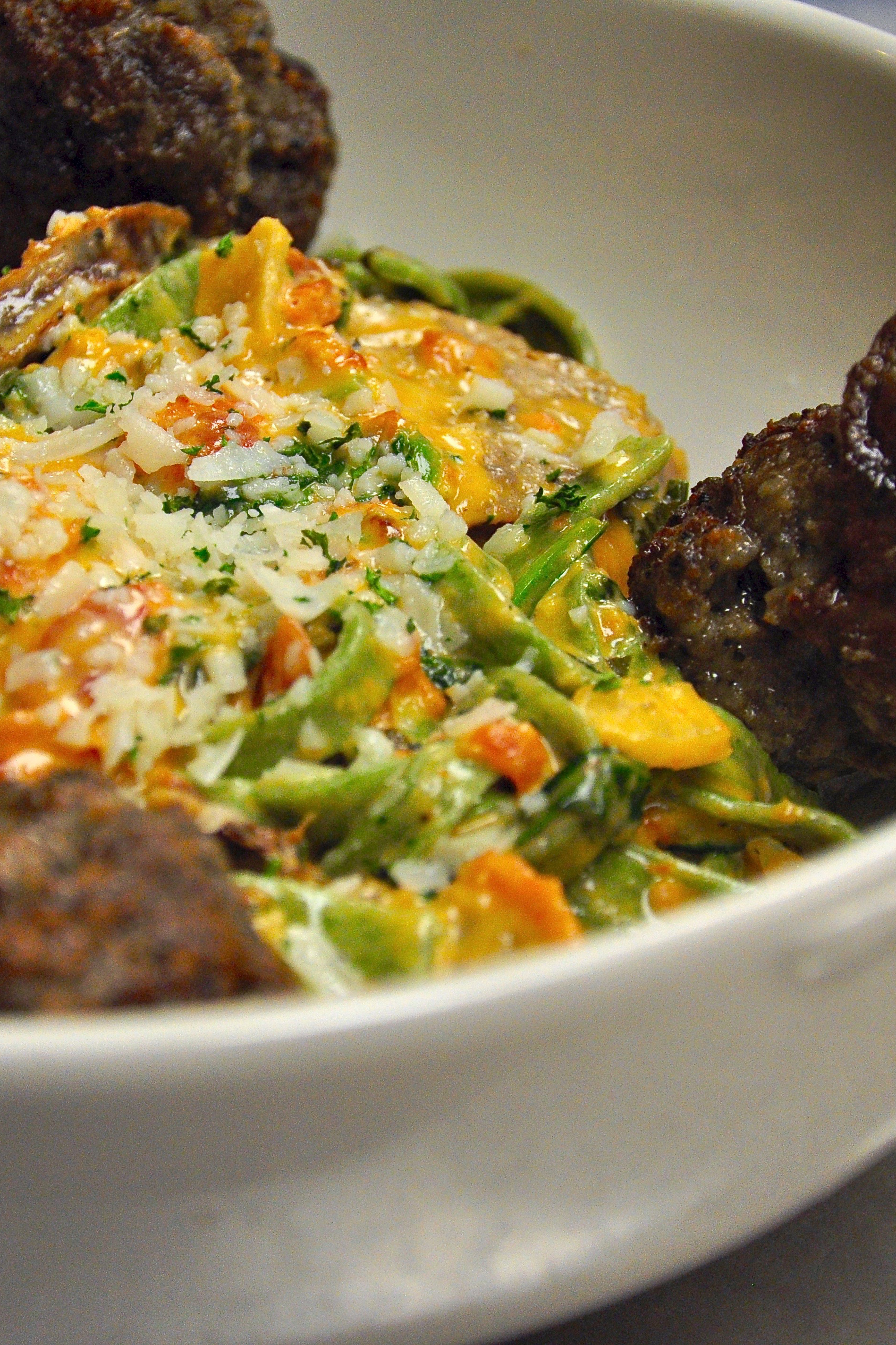 The Carriage House of Bluff View Inn's historic T.C. Thompson House (a Victorian Mansion) is home to Tony's Pasta Shop & Trattoria, featuring classic Italian cuisine in a casual atmosphere. Enjoy our famous complimentary table bread baked fresh daily at Bluff View Bakery and try our "Create Your Own Pasta" menu featuring hand-cut pastas and fresh sauces made with herbs and tomatoes from our very own gardens, or choose from other traditional Italian dishes such as Chicken Parmesan and Meat Lasagna. Do not pass up the meatballs - they are a traditional Sicilian recipe handed down by our owner's grandmother! Seating is available outdoors on the deck or the patio, or inside in the loft or the sunroom. Open daily for lunch and dinner. Reservations and call-ahead seating not available.

Tony's Back to School Special - Kids Eat Free!
Every Monday through Thursday until August 29th 2019.
Available while supplies last, some restrictions apply.
$

11.00
HOUSE-MADE PASTA
Angel Hair, Spaghettini, Fettuccine, Linguine, Black Pepper Linguine, Whole Wheat Linguine, Spinach Linguine
$

11.00
CUT PASTA
Penne, Rigatoni, Fusilli
$

13.00
FILLED PASTA
Spinach & Roasted Garlic Ravioli, Rosemary & Chicken Ravioli, Tri-Color Cheese Tortellini
PICK YOUR SAUCE
Marinara, Tomato Basil, Wild Mushroom Tomato, Basil Pesto, Bolognese, Alfredo, Basil Pesto Cream, Dill Cream, Low Country, Roasted Garlic Gorgonzola, Roasted Red Pepper Alfredo, Sun-Dried Tomato & Artichoke Cream, Tomato Spinach Cream
$

8.50
ROASTED GARLIC & MOZZARELLA FOCACCIA
House-Made Focaccia, Roasted Garlic Mozzarella, Marinara Dipping Sauce
$

9.00
FRIED CHEESE RAVIOLI
Mozzarella, Provolone & Ricotta Cheese Ravioli, Marinara Dipping Sauce
$

6.50
BRUSCHETTA
Grilled Parisienne, Roasted Tomato, Garlic, Extra-Virgin Olive Oil, Fresh Basil
$

9.50
AHI TUNA CARPACCIO
Blackened Ahi Tuna, Mixed Greens, Red Onion, Caper, Citrus Vinaigrette
$

9.00
FRIED CALAMARI
Marinara Dipping Sauce, Citrus Aioli Dipping Sauce
$

8.50
CAPRESE SALAD
Fresh Mozzarella, Tomato, Fresh Basil, Mixed Greens, Extra-Virgin Olive Oil, Aged Balsamic Vinegar
$

7.50
FRIED SALMON MEDALLIONS
Roasted Red Pepper Aioli Dipping Sauce
$

6.00
TONY'S SOUP OF THE DAY
$

11.00
SOUP & SALAD
Soup of the Day, Mixed Green or Caesar Salad
$

6.00
MIXED GREEN SALAD
Mixed Greens, Tomato
$

6.00
CAESAR SALAD
Romaine, House-Made Croutons, Caesar Dressing, Pecorino Cheese
$

11.50
GRILLED CHICKEN SALAD
Mixed Greens, Kalamata Olive, Tomato Wedge, Red Onion, Feta Cheese, Balsamic Vinaigrette
$

12.50
SICILIAN SALAD
Grilled Chicken, Romaine, Tomato, Artichoke Heart, Tri-Colored Orzo, Caper, Feta Cheese, Garlic Citrus Vinaigrette
$

12.50
GRILLED VEGETABLE SALAD
Yellow Squash, Asparagus, Zucchini, Red Onion, Tomato, Roasted Bell Pepper, Romaine, Mixed Greens, Feta Cheese, Roasted Tomato Tarragon, Kalamata Olive
$

14.00
GRILLED SALMON SPINACH SALAD
Fresh Spinach, Tomato, Red Onion, Caper, Hard-Boiled Egg, Citrus Aioli
$

16.00
FLANK STEAK SALAD
Romaine, Peppadew Pepper, Tomato, Red Onion, House-Made Croutons, Gorgonzola Cheese, Buttermilk Dressing
$

9.00
PASTA SALAD
Fusilli Pasta, Tomato, Onion, Kalamata Olive, Romaine, Basil-Pesto Aioli
$

12.00
GRILLED CHICKEN CAESAR SALAD
Romaine, House-Made Croutons, Caesar Dressing, Pecorino Cheese
$

14.00
SALMON CAESAR SALAD
Romaine, House-Made Croutons, Caesar Dressing, Pecorino Cheese
$

1.25 each
ADDITIONAL TOPPINGS
Pepperoni, Onion, Spinach, Tomato, Garlic, Olive Oil, Roasted Red Pepper, Roasted Yellow Pepper, Green Bell Pepper
$

1.75 each
PREMIUM TOPPINGS
Grilled Chicken, Bacon, Sausage, Meatball, Mushroom, Peppadew Pepper, Pineapple, Green Olive, Kalamata Olive, Basil Pesto
$

10.50
CLASSIC ITALIAN PANINI
Pepperoni, Salami, Ham, Tomato, Onion, Italian Dressing, Mozzarella Cheese, House-Made Focaccia
$

10.50
CHICKEN, BACON & MUSHROOM PANINI
Roasted Red Pepper Mayo, Mozzarella Cheese, House-Made Focaccia
$

10.50
GRILLED CHICKEN PANINI
Tomato, Basil Pesto, Mozzarella Cheese, House-Made Focaccia
$

10.50
GRILLED VEGETABLE PANINI
Squash, Zucchini, Red Bell Pepper, Roasted Tomato Aïoli, Mozzarella Cheese, House-Made Focaccia
$

12.00
CHICKEN PARMESAN SUB
Marinara Sauce, Mozzarella Cheese, Toasted Sub Roll
$

12.00
TONY'S CLASSIC MEATBALL SUB
Marinara Sauce, Mozzarella Cheese, Toasted Sub Roll
$

12.00
EGGPLANT PARMESAN SUB
Marinara Sauce, Mozzarella Cheese, Toasted Sub Roll
$

10.50
BEEF PANINI
Peppadew Pepper, Basil Pesto Aioli, Mozzarella Cheese, House-Made Focaccia
$

14.00
CHICKEN PARMESAN
Breaded Chicken Breast, Mozzarella Cheese, Marinara Sauce, Spaghettini
$

13.50
BAKED PENNE
Italian Sausage, Tomato Basil Sauce, Mozzarella Cheese
$

13.50
FUSILLI
Grilled Chicken, Mushroom, Roasted Red Pepper Alfredo Sauce
$

13.50
CHICKEN TETRAZZINI
Rigatoni Pasta, Chicken, Alfredo Sauce, Mozzarella Cheese
$

14.00
LOW COUNTRY LINGUINE
House-Made Black Pepper Linguine, Sautéed Crawfish, Cajun Alfredo Sauce, Mushroom
$

12.00
SPAGHETTINI CARBONARA
Bacon, Alfredo Sauce, Mozzarella Cheese
$

13.50
TRADITIONAL LASAGNA
House-Made Pasta, Beef / Pork Ragu, Herbed Ricotta, Tomato Basil Sauce, Mozzarella Cheese
$

13.50
GARDEN VEGETABLE LASAGNA
House-Made Basil Pasta, Yellow Squash, Zucchini, Bell Pepper, Mushroom, Herbed Spinach Ricotta, Mozzarella Cheese
$

12.50
SHRIMP SCAMPI
Penne Pasta, Shrimp, White Wine Garlic Butter Sauce
$

12.50
CHICKEN & SPINACH CANNELLONI
Minced Chicken & Spinach, Ricotta Cheese, Tomato Basil, Mozzarella Cheese
$

13.00
EGGPLANT PARMESAN
Breaded Eggplant, Marinara Sauce, Mozzarella Cheese, Spaghettini
$

12.00
SPAGHETTINI CON CRUDO
Spaghettini, Tomato, Garlic, Fresh Basil, Pine Nuts, Extra Virgin Olive Oil
$

14.00
BAKED PESTO CHICKEN RAVIOLI
Rosemary Chicken Ravioli, Basil Pesto Cream Sauce, Mozzarella Cheese
$

14.00
SEAFOOD RAVIOLI
Dill Cream Sauce
$

14.00
BEEF RAVIOLI
Broccoli, Italian Sausage, Spicy Alfredo Sauce
$

11.00
HOUSE-MADE PASTA
Angel Hair, Spaghettini, Fettuccine, Linguine, Black Pepper Linguine, Whole Wheat Linguine, Spinach Linguine
$

11.00
CUT PASTA
Penne, Rigatoni, Fusilli
$

13.00
FILLED PASTA
Spinach & Roasted Garlic Ravioli, Rosemary & Chicken Ravioli, Tri-Color Cheese Tortellini
PICK YOUR SAUCE
Marinara, Tomato Basil, Wild Mushroom Tomato, Basil Pesto, Bolognese, Alfredo, Basil Pesto Cream, Dill Cream, Low Country, Roasted Garlic Gorgonzola, Roasted Red Pepper Alfredo, Sun-Dried Tomato & Artichoke Cream, Tomato Spinach Cream
$

8.50
ROASTED GARLIC & MOZZARELLA FOCACCIA
House-Made Focaccia, Roasted Garlic Mozzarella, Marinara Dipping Sauce
$

9.00
FRIED CHEESE RAVIOLI
Mozzarella, Provolone & Ricotta Cheese Ravioli, Marinara Dipping Sauce
$

6.50
BRUSCHETTA
Grilled Parisienne, Roasted Tomato, Garlic, Extra-Virgin Olive Oil, Fresh Basil
$

9.50
AHI TUNA CARPACCIO
Blackened Ahi Tuna, Mixed Greens, Red Onion, Caper, Citrus Vinaigrette
$

9.00
FRIED CALAMARI
Marinara Dipping Sauce, Citrus Aioli Dipping Sauce
$

8.50
CAPRESE SALAD
Fresh Mozzarella, Tomato, Fresh Basil, Mixed Greens, Extra-Virgin Olive Oil, Aged Balsamic Vinegar
$

7.50
FRIED SALMON MEDALLIONS
Roasted Red Pepper Aioli Dipping Sauce
$

6.00
TONY'S SOUP OF THE DAY
$

11.00
SOUP & SALAD
Soup of the Day, Mixed Green or Caesar Salad
$

6.00
MIXED GREEN SALAD
Mixed Greens, Tomato
$

6.00
CAESAR SALAD
Romaine, House-Made Croutons, Caesar Dressing, Pecorino Cheese
$

11.50
GRILLED CHICKEN SALAD
Mixed Greens, Kalamata Olive, Tomato Wedge, Red Onion, Feta Cheese, Balsamic Vinaigrette
$

12.50
SICILIAN SALAD
Grilled Chicken, Romaine, Tomato, Artichoke Heart, Tri-Colored Orzo, Caper, Feta Cheese, Garlic Citrus Vinaigrette
$

12.50
GRILLED VEGETABLE SALAD
Yellow Squash, Asparagus, Zucchini, Red Onion, Tomato, Roasted Bell Pepper, Romaine, Mixed Greens, Feta Cheese, Roasted Tomato Tarragon, Kalamata Olive
$

14.00
GRILLED SALMON SPINACH SALAD
Fresh Spinach, Tomato, Red Onion, Caper, Hard-Boiled Egg, Citrus Aioli
$

16.00
FLANK STEAK SALAD
Romaine, Peppadew Pepper, Tomato, Red Onion, House-Made Croutons, Gorgonzola Cheese, Buttermilk Dressing
$

9.00
PASTA SALAD
Fusilli Pasta, Tomato, Onion, Kalamata Olive, Romaine, Basil-Pesto Aioli
$

12.00
GRILLED CHICKEN CAESAR SALAD
Romaine, House-Made Croutons, Caesar Dressing, Pecorino Cheese
$

14.00
SALMON CAESAR SALAD
Romaine, House-Made Croutons, Caesar Dressing, Pecorino Cheese
$

1.25 each
ADDITIONAL TOPPINGS
Pepperoni, Onion, Spinach, Tomato, Garlic, Olive Oil, Roasted Red Pepper, Roasted Yellow Pepper, Green Bell Pepper
$

1.75 each
PREMIUM TOPPINGS
Grilled Chicken, Bacon, Sausage, Meatball, Mushroom, Peppadew Pepper, Pineapple, Green Olive, Kalamata Olive, Basil Pesto
$

15.00
BRAISED BEEF
12oz. Roast Beef, Spinach, Garlic Carrot, Mashed Potato
$

18.00
PAN-SEARED BEEF MEDALLIONS
Balsamic Onion, Hand-Cut Fries, Fresh Spinach, Tomato, Garlic Oil, Pecorino Cheese
$

15.00
PECAN CRUSTED TILAPIA
Tilapia Filet, Garlic Butter, Southern Pecan, Roasted Red Potato, Asparagus
$

14.00
CHICKEN PARMESAN
Breaded Chicken Breast, Mozzarella Cheese, Marinara Sauce, Spaghettini
$

13.50
BAKED PENNE
Italian Sausage, Tomato Basil Sauce, Mozzarella Cheese
$

13.50
FUSILLI
Grilled Chicken, Mushroom, Roasted Red Pepper Alfredo Sauce
$

13.50
CHICKEN TETRAZZINI
Rigatoni Pasta, Chicken, Alfredo Sauce, Mozzarella Cheese
$

14.00
LOW COUNTRY LINGUINE
House-Made Black Pepper Linguine, Sautéed Crawfish, Cajun Alfredo Sauce, Mushroom
$

12.00
SPAGHETTINI CARBONARA
Bacon, Alfredo Sauce, Mozzarella Cheese
$

13.50
TRADITIONAL LASAGNA
House-Made Pasta, Beef / Pork Ragu, Herbed Ricotta, Tomato Basil Sauce, Mozzarella Cheese
$

13.50
GARDEN VEGETABLE LASAGNA
House-Made Basil Pasta, Yellow Squash, Zucchini, Bell Pepper, Mushroom, Herbed Spinach Ricotta, Mozzarella Cheese
$

12.50
SHRIMP SCAMPI
Penne Pasta, Shrimp, White Wine Garlic Butter Sauce
$

12.50
CHICKEN & SPINACH CANNELLONI
Minced Chicken & Spinach, Ricotta Cheese, Tomato Basil, Mozzarella Cheese
$

13.00
EGGPLANT PARMESAN
Breaded Eggplant, Marinara Sauce, Mozzarella Cheese, Spaghettini
$

12.00
SPAGHETTINI CON CRUDO
Spaghettini, Tomato, Garlic, Fresh Basil, Pine Nuts, Extra Virgin Olive Oil
$

14.00
BAKED PESTO CHICKEN RAVIOLI
Rosemary Chicken Ravioli, Basil Pesto Cream Sauce, Mozzarella Cheese
$

14.00
SEAFOOD RAVIOLI
Dill Cream Sauce
$

14.00
BEEF RAVIOLI
Broccoli, Italian Sausage, Spicy Alfredo Sauce
$

13.00
GLUTEN-FREE PASTA
Spaghetti, Penne, Fusilli
PICK YOUR SAUCE
Marinara, Tomato Basil, Wild Mushroom Tomato, Basil Pesto, Bolognese, Alfredo, Low Country, Basil Pesto, Dill Cream, Roasted Garlic Gorgonzola, Roasted Red Pepper Alfredo, Sun-Dried Tomato & Artichoke Cream, Tomato Spinach Cream
$

8.50
BRUSCHETTA
Gluten-Free Bread, Tomato, Fresh Basil, Extra-Virgin Olive Oil
$

9.50
AHI TUNA CARPACCIO
Cajun Spiced Ahi Tuna, Mixed Greens, Red Onion, Caper, Vinaigrette
$

8.50
CAPRESE SALAD
Fresh Mozzarella, Tomato, Fresh Basil, Mixed Greens, Extra-Virgin Olive Oil, Aged Balsamic Vinegar
CREATE YOUR OWN PIZZA (MADE ON GLUTEN FREE FLATBREAD)
$

1.25 each
ADDITIONAL TOPPINGS
Pepperoni, Onion, Spinach, Tomato, Garlic, Olive Oil, Roasted Red Pepper, Roasted Yellow Pepper, Green Bell Pepper
$

1.75 each
PREMIUM TOPPINGS
Grilled Chicken, Bacon, Sausage, Meatball, Mushroom, Peppadew Pepper, Pineapple, Green Olive, Kalamata Olive, Basil Pesto
$

6.00
MIXED GREEN SALAD
Mixed Greens, Tomato
$

6.00
CAESAR SALAD
Romaine, Caesar Dressing, Pecorino Cheese
$

11.50
GRILLED CHICKEN SALAD
Mixed Greens, Kalamata Olive, Tomato Wedge, Red Onion, Feta Cheese, Balsamic Vinaigrette
$

12.50
SICILIAN SALAD
Grilled Chicken, Romaine, Tomato, Artichoke Heart, Caper, Feta Cheese, Garlic Citrus Vinaigrette
$

12.50
GRILLED VEGETABLE SALAD
Yellow Squash, Asparagus, Zucchini, Red Onion, Tomato, Roasted Bell Pepper, Romaine, Mixed Greens, Feta Cheese, Roasted Tomato Tarragon, Kalamata Olive
$

14.00
GRILLED SALMON SPINACH SALAD
Fresh Spinach, Tomato, Red Onion, Caper, Hard-Boiled Egg, Citrus Aioli
$

16.00
FLANK STEAK SALAD
Romaine, Peppadew Pepper, Tomato, Red Onion, Gorgonzola Cheese, Buttermilk Dressing
$

12.00
GRILLED CHICKEN CAESAR SALAD
Romaine, Caesar Dressing, Pecorino Cheese
$

14.00
SALMON CAESAR SALAD
Romaine, Caesar Dressing, Pecorino Cheese
$

16.00
GRILLED CHICKEN PARMESAN
Mozzarella Cheese, Marinara Sauce, Gluten-Free Spaghetti
$

15.50
BAKED PENNE
Italian Sausage, Mozzarella Cheese, Tomato Basil Sauce
$

15.50
FUSILLI
Grilled Chicken, Mushroom, Roasted Red Pepper Alfredo Sauce
$

15.50
CHICKEN TETRAZZINI
Mozzarella Cheese, Alfredo Sauce, Gluten-Free Penne
$

14.00
SPAGHETTI CARBONARA
Bacon, Mozzarella Cheese, Alfredo Sauce
$

14.50
SHRIMP SCAMPI
White Wine Garlic Butter Sauce, Gluten-Free Penne
$

15.00
GRILLED EGGPLANT PARMESAN
Mozzarella Cheese, Marinara Sauce, Gluten-Free Spaghetti
$

14.00
SPAGHETTI CON CRUDO
Tomato, Garlic, Fresh Basil, Pine Nut, Extra-Virgin Olive Oil
$

16.00
LOW COUNTRY PASTA
Sautéed Crawfish, Mushroom, Cajun Alfredo Sauce, Gluten-Free Spaghetti
$

15.00
BRAISED BEEF
12oz. Beef Roast, Spinach, Garlic Carrot, Mashed Potato
dinner only, available after 4pm
$

15.00
PECAN CRUSTED TILAPIA
Tilapia Filet, Garlic Chive Butter, Southern Pecan, Roasted Red Potato, Asparagus
dinner only, available after 4pm
GLUTEN-SAFE BREAD SERVICE
$

2.00
CIABATTA BUN OR HOUSE-MADE FLATBREAD
served with pecorino cheese dipping oil
HOURS:
Sunday-Thursday 11am-9pm Friday & Saturday 11am-10pm
212 High Street
Chattanooga, TN 37403
For more information, please call 423.265.5033 x6